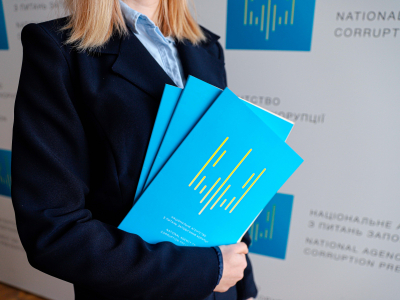 Anti-corruption officers in Ukraine are the autonomous and functionally independent structural units or persons whose main task is to prevent corruption in their organizations. These officers are vital elements of anti-corruption infrastructure. Under the Ukrainian legislation on corruption prevention, there are three main categories of anti-corruption officers or units:
Persons who are responsible for anti-corruption prevention in governmental institutions. All the governmental bodies are obliged to have at least one anti-corruption office. In actual practice, these units or persons define the main corruption risks, monitor the process of declaring the assets, and consult the employees of the institution on how to meet the requirements of corruption prevention legislation. For example, during the update process of the E-register of Declarations of Public Officials, anti-corruption officers helped the NACP in providing the explanation to officials and giving feedback to our analysts;
Units or persons who prevent corruption in big state and non-state enterprises. Large amounts of money create additional incentives for corruption. It is vital for enterprises to understand and follow the updated anti-corruption legislation and the regulatory environment in their jurisdictions or spheres. The anti-corruption officers provide methodological and consulting assistance on anti-corruption legislation and help to avoid corruption risks in the respective spheres.
The third category of anti-corruption officers is less defined, and its status still provokes some discussions. These anti-corruption units work in local organizations, and the head of this organization establishes their authority.